About us
A dynamic new Modern Australian restaurant located at the bold new-look Hong Kong Museum of Art.
HUE Dining
Given its landmark location at Hong Kong Museum of Art which is located on the edge of Victoria Harbour in Tsim Sha Tsui, at Hue, design and art share the limelight with the venue's Modern Australian cuisine, which is driven by the best produce and inspired by the multi-cultural make-up of the land down under, with flavours and influences from four corners of the world.
Open for both lunch and dinner for up to 130 guests with uniquely tiered leather banquette seating - so that every diner can enjoy the drama of the harbour – Hue also features two private dining rooms, which cater to 26 diners,
Hue offers an elegant bar and  lounge area with floor-to-ceiling windows that caters up to 35 guests, serving cocktails, wine and mocktails to be enjoyed next to the harbour.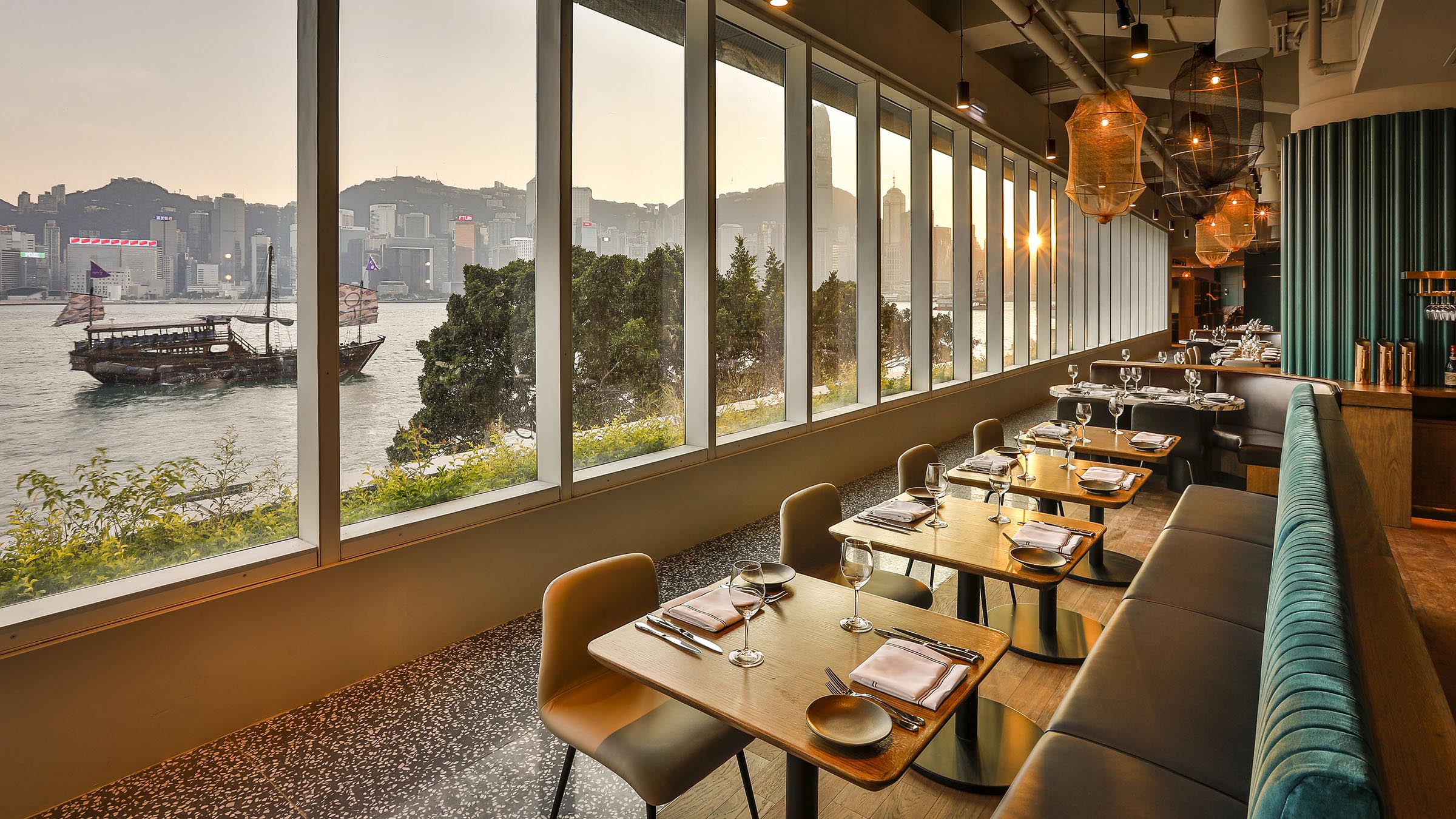 Located Inside
HK Museum of Art
Hue offers an intriguing dining experience backdropped by one of the world's most famous skylines. Located on the museum's first floor, the 5,000 sq ft Modern Australian restaurant makes the most of its iconic exquisite panoramas.
Featured works
Tanya Baxter Art
Hue Dining is delighted to house Modern and Contemporary art personally selected by Tanya Baxter, with a focus on artists with an academic background, a history of acquisition by leading international museums and a strong performance at auction.
Tanya Baxter opened one of Asia's first Western galleries in Hong Kong in the 1990s. With galleries now in both London and Hong Kong, she boasts over 20 years' experience in the Post-Modern, Modern British and Contemporary art markets. Her bespoke Art Advisory services cater to a prestigious clientele including multinational banks, hedge funds and luxury residential properties.
Stand-out artists include the oil painting "Hong Kong at Dusk" by British artist Pip Todd Warmoth, a graduate of the Royal Academy whose work is well known to the Hong Kong audience. having been championed by the late David Tang and collected internationally by well-known private and corporate collectors. Currently of great appeal to audiences in Asia and the USA, Bridget Riley (b. 1931) is an icon of British art of the 1960s, known for her dynamic painting that exploit optical phenomena to evoke compelling sensations of movement, colour and three-dimensionality.  A number of works on display including "Composition with Circles 4" (2004) are examples of her intricate, stylish geometric abstractions that helped pioneer the Op Art movement.